by Joel Holguin Fernández
Asociación Dominicana de Controladores de Tránsito Aéreo, Dominican Republic
---
Over the past few decades, when life had crumbled into chaos and darkness, the world was lucky to count within its gadgets an engineering marvel. One that could quickly transport large shipments as close as possible to people in need, afflicted by wars or by natural disasters. When time was of the essence, or unforgiving terrain would prevent transit to a destination, the super heavy transport aircraft Antonov An-225, aptly nicknamed Mriya (Ukrainian for 'Dream' or 'Inspiration'), heroically ventured around the world, delivering heavy cargo and humanitarian aid quicker than any other vehicle could.
One such mission took place in 2010, after a violent earthquake struck Haiti. As the country's infrastructure was damaged during the seism, its capacity to receive air cargo was practically nonexistent. Because of that, Mriya was charged with delivering 108 metric tons of large-size construction machinery from Tokyo, Japan to Santo Domingo, Dominican Republic. From Haiti's neighboring country, the equipment would continue its journey on land, making it to the hands of those in need. A trip well over 7000 nautical miles that could be thankfully completed in a matter of just hours.
When the six-engine Ukrainian aircraft touched down in Santo Domingo, sporting a wingspan 88 m wide and a maximum takeoff weight of 640 metric tons, it had to be parked on an improvised spot over the main taxiway, as the width and surface strength of the ones leading to the ramp were insufficient to manoeuvre the colossus safely. An enormous angel had graciously landed, bringing life-saving equipment that would have taken many more weeks to be delivered by sea.
Developed with the mission of transporting the Soviet Buran-class orbiter, Mriya had its maiden flight on December 1988. At the time of that first 74-minute trip, it broke 106 world records, a number that would continue to grow over time. However, only one aircraft could be completed before the dissolution of the Soviet Union, making it the only one of its kind.
To carry all the spaceship's accompanying equipment inside its cargo bay and the actual Buran orbiter piggybacking on the aircraft, the Antonov Design Bureau enlarged the existing Antonov An-124 Ruslan and, in response to various design challenges along the way, replaced the vertical stabilizer with a twin tail, increased the engine number to six, enlarged the wings, and increased the wheels on the landing gear to a total of 32. To load Mriya, the nose's cargo door would raise up, its four-wheel nose landing gear fold down and its built-in cargo ramp stretch out so its two on-board cranes could stack the goods.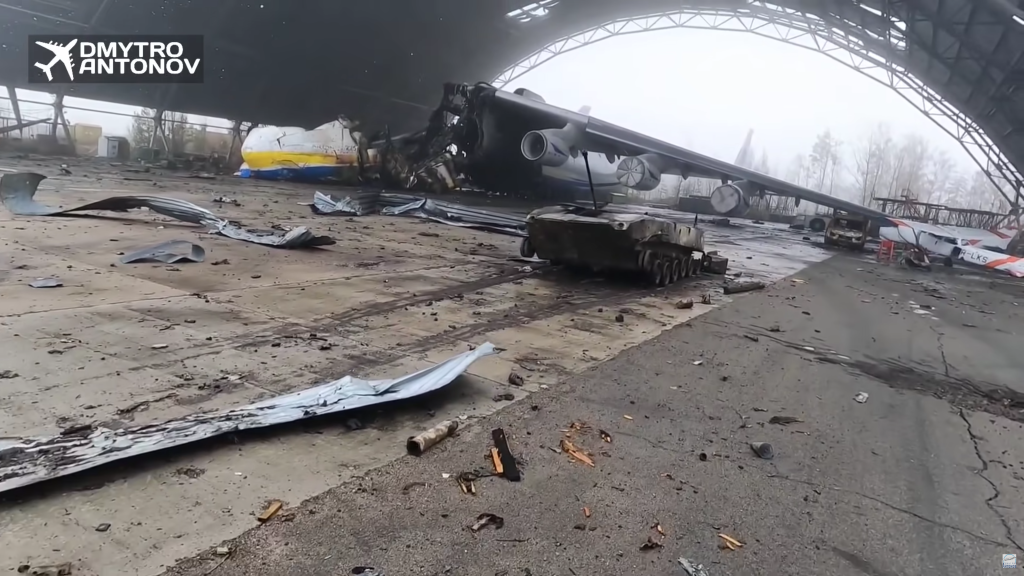 But post-Soviet aerospace industry struggled for survival and Mriya had to be stored from 1994 to 2001 while an appropriate mission was found for the unusual plane. Luckily, the aircraft's cargo capacity turned it into an irreplaceable tool to quickly move large commercial and humanitarian payloads around the world. This made Mriya ideal for exceptional missions and finally helped it find its footing within the cargo industry, making it the iconic plane we all know today.
The aircraft would carry a record-breaking payload of 253 metric tons. For comparison purposes, Boeing's modified 747-400 Large Cargo Freighter Dreamlifter, designed to carry the oversized parts of the company's 787 Dreamliner, has a cargo capacity of about 113 metric tons – also, the maximum takeoff weight for an actual Boeing 787-900 Dreamliner is about 253 metric tons.
Mriya required a crew of 6 to fly, but the total team on board included up to 20 people. Being the only aircraft of its type and flying since the 80s meant that there was not an abundance of specialized personnel to routinely handle or maintain the plane. Because of that, a group of specialists familiar with the aircraft traveled with it to perform repairs as the need arose, to keep on flying even if bad luck struck thousands of miles away from home.
The aircraft's mission history remains an impressive one, having transported everything from spaceships on its back to locomotives, wind turbine blades, and even a Bombardier Challenger 604 inside its cargo bay. Still, some of its trips stand out, as they provided quick solutions to issues that affected many people, sometimes in distress. In 1991, the airplane carried 200 metric tons of medicine and equipment to Kyiv after the 1986 accident at the Chernobyl nuclear power plant; in 2003, it delivered, over the course of a month, more than 800 metric tons of equipment and humanitarian aid to various countries in the Middle East; in 2009, it carried a 188 metric tons generator (the heaviest single piece of cargo ever flown) to Armenia for the construction of a power plant; the same year, it carried 10 generators to American Samoa after a tsunami damaged a generating station; in 2011 it brought relief equipment to Japan after an earthquake and tsunami hit its shores; in 2018 it delivered 12 generators to southern Bolivia for the construction of another power plant; that same year, it brought 140 metric tons of supplies to the typhoon-stricken Guam; and the list goes on.
With its travels, Mriya turned into a symbol of hope and rebirth, an engineering achievement that became a champion for reconstruction and survival. But sadly, in February 2022, during the Russo-Ukrainian armed conflict that started in 2014, Mriya was destroyed in a fight for the strategic control of Antonov Airport in Hostomel, Ukraine. The aircraft felt as if it had gained a soul of its own after transcending its intended mission and becoming synonym with humanitarian aid and recovery, but was lost to war, a pursuit that, throughout all human history, has been the subject of debatable morality, unclear motivations, and dubious gains.
What we are left with now, as this and other conflicts around the world unfold and as we mourn the absurd loss of life, infrastructure, and material goods, is the dream that humanity would someday take a page out of Mriya's book and become inspired in the aircraft's journey to transform hostility into peace and international cooperation.